If you don't ask how will you know?
ActiveTrail is proud to present its surveys software- Active Surveys
Successful businesses are usually those that understand their clients and engage them on an ongoing basis, adjusting their offers according their clients' ever changing needs. Understanding users and monitoring their evolving needs is challenging yet essential in a competitive market.
Activetrail's online survey solution, Active Surveys, is a simple and user- friendly system for sending out questionnaires and surveys, and for performing in-depth market analysis. It's simple, efficient, and does not require any technical knowledge. With Active Surveys you can design your questionnaire with your brand colors, add your logo, and, of course, create a series of open and closed questions with a click of a button. After that, all you have left to do is analyze the results with our easy to understand reports.
Email marketing

 and surveys – a winning combination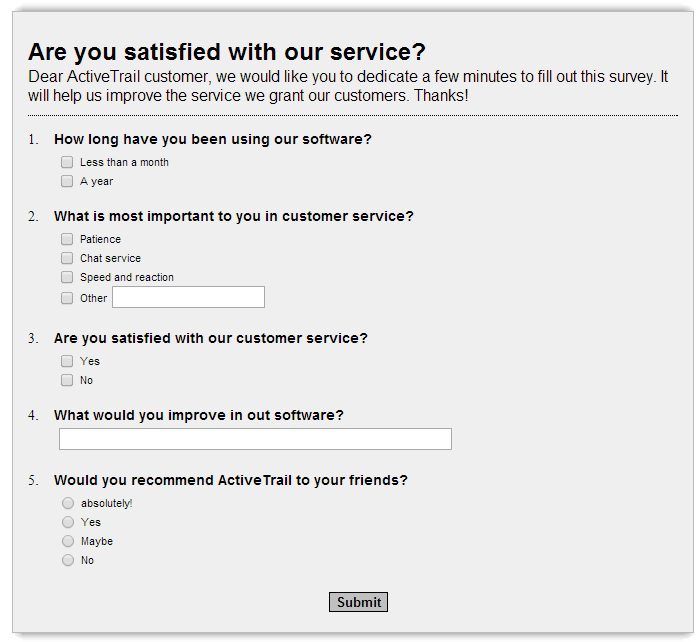 With ActiveTrail you will be able to send your surveys to segmented audiences, and discover in real-time who opened, who clicked, and who filled out the questionnaire. You can also send a survey or questionnaire in response to a user's action, after purchasing a product or following a support call, for example. Using ActiveTrail's sophisticated API you can automatically send a survey based on any parameter on your website or in your system. In this way you can measure the efficiency of your service and the level of your customer's satisfaction.
The combination of ActiveTrail and Active Surveys will give you a serious competitive edge.
Back to Blog
SIGN UP FREE
No credit card needed