How to Market Anything on Valentine's Day (Not Only Flowers!)
With the fresh smell of chocolate, flowers, and tons of hormones in the air 🙂 it's hard not to get into this whole Valentine's Day spirit, so no matter what you're marketing, you've got a captive audience – an audience that's waiting to be offered something special, enticing & different.  Valentine's Day is the ideal time to create a newsletter that's special, both in design and in content.
Here's how to do it right on Valentine's Day :
 ♥ A seductive subject line ♥
The subject line of your email is the first thing the recipient will see.  When sending a special Valentine's Day campaign, try to stand out from all the emails your customers will receive. Add hearts to your subject line or address them personally, using a personalization tool.
Also, try to use "sweeter", softer wording and above all, be clear.  Studies show that a clearly understandable subject line rakes in 5 times as many clicks as one that's witty but ambiguous.
♥ Copywriting never breaks your heart ♥
It's easy and fun to play around with texts on Valentine's Day.  It's an emotional day, but one without a very deep spiritual meaning, and it's a great opportunity to add a little humor to your emails – even if the product you're marketing is light years away from romance.
The marketing directors of Hi-Tec hiking shoes dreamed up an ingenious way to market their extremely unromantic product. "This Valentine's Day", they wrote in the newsletter header, "Love your feet."
♥ Collaboration with a valentine-friendly company ♥
Your company really isn't connected to the symbols of the holiday? That doesn't mean you don't deserve to profit.  Collaborate with another company that markets chocolates, perfume, lingerie, flowers, vouchers for romantic restaurants, and the like.
It's possible that around Valentine's Day your products won't get much attention, but by teaming up with an interesting offer involving season-appropriate items – you can double your exposure.
♥ Segment your mailing list ♥
In the creation of an email marketing campaign, it's always a good idea to divide up your mailing list, in order to suit the content to the recipient as much as possible.  On Valentine's Day, that's a must.
First of all, men and women react very differently to the day that celebrates love.  The range of emotions runs from sweet to purely cynical, and you have to play to that spectrum and try to suit the tastes of men and women separately.
The Dolce & Gabbana fashion house didn't send special emails to each group separately, but in the campaign, it emailed to everyone, it gave the option to choose who the present was for – 'for her' or 'for him'.
The age factor can also be a marketing element for you.  Divide your campaign according to age groups – after all, a couple in their 50's won't celebrate Valentine's Day the same way a couple in their 20's would, right?
In addition, it's not only a holiday for couples.  For singles, it's also a special day (not always in a positive way).  Try to separate your married and single recipients, so you can offer different products to each group.
Don't have the necessary info?  You still have enough time to ask.  You can put together internet surveys, send them to your recipients, and ask them to fill in the missing details.
♥ The perfect time for email marketing ♥
There isn't really a perfect time for emailing, that's a cliché – but there is an optimal time period for the particular item you're marketing or for your specific target audience.
Try to think outside the box and before you send anything out, ask yourself a few questions: When are your competitors emailing? When would your target audience prefer to buy Valentine's Day gifts?  How far in advance do you need to let people know about the special offer you're promoting?
Try to create a few campaigns for different time slots, for instance, a campaign for those who plan ahead and a campaign for people who remember at the last minute.
♥ Products for people who hate the holiday – Don't try this at home ♥
The usual division of the holiday goes like this: women in love, men who want to please the women in love, and singles who are fed up with the whole thing.  Being anti-holiday is okay, too – as long as you do it tastefully and don't offend your recipients. After all, you have no way of knowing who's really into Valentine's Day and who's less so.
The Baxter Company, which markets men's cosmetics, did it wonderfully with an email that addresses their recipients who hate the holiday.  In their newsletter, they explained to their customers that they hate feeling like they're obliged to buy someone a gift for Valentine's Day, so they came up with a wish list for yourself – and call on the customers to abandon "Be mine" and adopt "I'm all mine".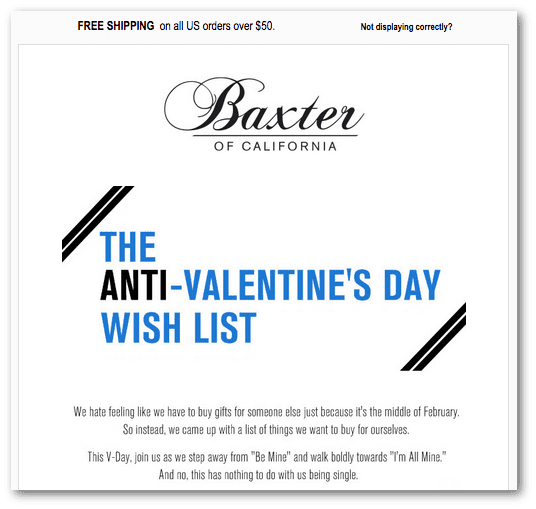 Take advantage of Valentine's Day to create an email marketing campaign and send it out to your mailing list.  Any event is a good reason for marketing, especially a day marked by general euphoria
♥
Read more:
10 Event Email Marketing Tips to Drive Attendance
The Ultimate Guide to Holiday Email Marketing