5 Key Things to Know About Effective Email Fundraising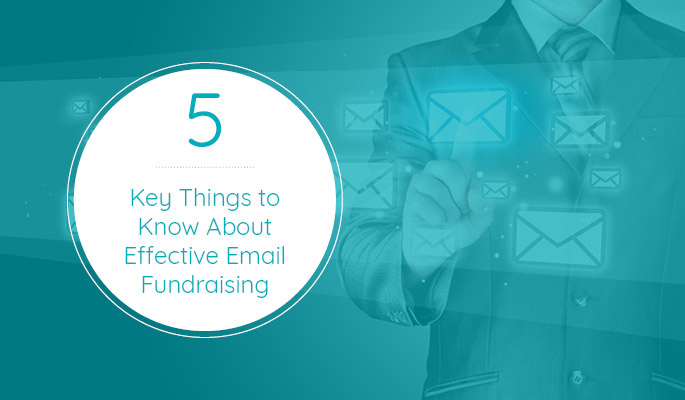 Email fundraising is a primary form of communication between a nonprofit organization and its donors. By employing effective email marketing strategies, your nonprofit can see a major boost in fundraising. 
But how do you get the most out of this email fundraising strategy? When you employ some best practices regarding email fundraising, your nonprofit can amplify the engagement of your supporters to boost your donation revenue as well as your brand recognition. 
These best practices that you should employ in your strategy include: 
Effectively represent your organization's brand. 

Employ your attitude in your writing style.

Make your questions as specific as possible. 

Be sure everything is mobile-responsive. 

Consider how your software fits together. 
Email fundraising has become more and more important for nonprofits in an increasingly digitally inclined society. Ready to learn how to make the most of your strategy? Let's dive in!
1. Effectively represent your organization's brand
When it comes to email fundraising, your organization's goal is, of course, to collect donations. But don't forget that the multifaceted nature of email strategy results in other side objectives that your organization should be aware of as well. 
One of these important objectives is to communicate the brand of your nonprofit.
Your fundraising emails also pair as marketing emails for your organization. That's why it's important to consider the brand that you're representing. 
If your nonprofit uses run-of-the-mill email marketing software, you may not receive all of the customizability that you need to accurately represent your brand. Therefore, be sure to invest in a solution that allows you to customize for each email the: 
Images.

Too many nonprofits employ different images to their emails in hopes that "at least one of them will resonate." But the truth is that a single image that represents your organization's services and is carefully chosen to appeal to the greatest number of email recipients is the most effective strategy for fundraising. 

Fonts.

Supporters who are active in your organization likely search through your nonprofit's website for information about your cause. Therefore, try to keep your fonts consistent between your emails and your website. Plus, this will make the transition to your site from the email a much smoother visual experience.

Colors.

Similar to the concept with fonts, you should make sure you maintain the same colors between your organization's emails and your website. This will help make sure it's immediately recognizable who the email is from based on the visual components of the content. 
Maintaining effective visual consistency is a great practice for both your email strategy as well as the other aspects of your marketing strategy. From your donation page to your crowdfunding campaign to your website, visual consistency is key to establishing trust with your viewers. 
2. Employ you-attitude in your writing style
Another top mistake made by nonprofits when it comes to their communications with supporters is communicating in terms of self. Which of the following statement registers better with you: 
Our organization needs your help to make a difference in the life of a child.


Or

Your contribution can save the life of a child today.
Chances are, the second statement made a bigger impact for you. But why is that? It's because the second statement uses you-attitude. 
You-attitude puts elements of the message in the perspective of the reader rather than the writer. This helps pull your supporter in subconsciously. 
An easy way to test for you-attitude in your email templates is to search for the words "I" or "We" and count how many times you use it in your writing. Then, search for "You" and "Your" to compare. Be sure you have at least twice as many "you's" in your email. 
This gets at the larger picture issue of donor appeal. You want to make sure the content of your emails is created especially to appeal to your supporters. There are other appeal methods you should look for such as specializing content for donor segments, strong subject lines, and personal touches (like using someone's first name).
3. Make your asks as specific as possible
When you appeal to supporters in emails, it's important to communicate clearly exactly what it is your nonprofit wants. If you leave them confused at the end of the email, they're unlikely to give. 
Tell them if you're looking for more registrants for an event, donations for a specific project, volunteers, in-kind donations, or other contributions. By telling them exactly what you need, you'll show the supporters exactly how they can help and how their contributions will make an impact. 
Be sure to provide some context in the question, but make the link to your donation page stand out on the email. 
One common way to do this is to add a button at the bottom of the email with a direct statement like "Donate Now" or "Give Today." This specific and direct button draws attention to itself and makes it easy for donors to know where to click in order to contribute to your cause. 
Other fundraising strategies you may try to appeal to your supporters through email include: 
Recurring gifts.

Explain the benefits of recurring gifts to your donors in an email. They can give small amounts over a longer period of time for a larger impact down the line. For more information about the benefits of recurring gifts, check out this

Snowball Fundraising article about them

. 

Volunteer hours.

Keep in mind that not all donations are financial. Some supporters may prefer giving their time to your organization. Provide information about the other engagement opportunities in emails to those who may be most interested. 

Matching gifts.

If your supporters are eligible for matching gifts, they may not know it!

Provide a matching gift database

and explain to your supporters how to use it in your email to them. Then, when they decide to give, they'll be able to easily take advantage of any corporate philanthropy funds as well. 
Email fundraising employs tactics that are applicable to more than just classic donations. Don't forget to also be specific about the additional opportunities, invitations, and engagement tactics offered by your nonprofit to supporters. 
4. Be sure everything is mobile-responsive 
Nowadays, many people choose to check their emails on their smartphones rather than on a desktop at home. This is why it's so important to be sure your email is legible and attractive on both desktop and mobile devices. 
Be sure you invest in an email marketing software solution that offers mobile-responsive email functionality. 
The danger of not investing in this type of software is a dramatic decrease in your open and click-through rates for each email. People may try to open the email, but when they're unable to view the content, or if the content looks bad, they'll exit out of the email right away and move onto the next one. 
Other things to keep in mind when it comes to mobile-responsiveness include: 
Make sure your donation page and website are also mobile-responsive.

It should be a seamless experience to click through from your email to your donation page on mobile devices. 

Combine your email strategy with an SMS strategy for the best ROI.

According to this article

, email marketing campaigns are 325% more effective when combined with SMS marketing. 

Integrate your social media strategy with your email fundraising.

Marketing your donation opportunities through the use of multiple platforms is the best way to get the word out. Use smart strategies like collecting leads on social media and encouraging supporters to share your posts. 
When supporters see your organization in their inboxes as well as in their text history, they'll be more likely to have you in the forefront of their brains because your messages are right there on the device in their pockets!

5. Consider how your software fits together
Your email marketing software is key for your email fundraising strategy, but when you look at the big picture, there's a lot of software you need to consider when pulling this strategy together.
Your organization needs a technology plan that encompasses all of the software you'll be using to make this email fundraising strategy possible. Think about some of the other software we've alluded to throughout this article thus far: 
CMS software to build a website. 

Fundraising software to create a donation page. 

Social media marketing software. 

Text-to-give or SMS software.

A matching gift database. 

Your CRM to store leads and data. 
One of the other major software solutions you should keep in mind for your email fundraising strategy is your accounting software. There are two major purposes for this: 
First, you'll need to budget your finances for the list of software above.

Second, you'll need to track your revenue that's a direct response to your improved strategy. 
Here at MIP Fund Accounting, it's our goal to ensure nonprofits like yours have everything they need to compile effective plans based on their true financial standing. That's why we offer features that allow your organization to craft budgets for these plans and compare your actual spending to the predicted allocation. 
You can see how much your organization has spent on software in the past, then adjust your budget to adhere to your needs in the future. Whenever you adjust your software budget, be sure to look for overlapping opportunities in your software solutions where you may be able to combine features into a single solution and save a buck. 
For instance, you may find that your email automation marketing software also offers SMS features. The single software with both features will likely be less expensive than investing in two separate solutions. 
If you're looking into other features that can help your organization create a budgetary plan for your technology review, check out the rest of the key accounting software solutions here. 
Make sure your nonprofit is getting the most from your email fundraising campaign. Having access to the right marketing technology is half the battle. The other half is using that technology to its fullest extent. Good luck!
Read more:
5 Strategies to Boost Engagement Using a Marketing Automation Software
Nonprofit Email Marketing: 4 Steps to Increase Gift Matching