Email Mistakes Happen: How to Remedy an Accidental Email Send
Have you ever experienced sending the wrong email to your subscribers? Obviously, after it dawned on you that you have sent the erratum email or wrong information to your subscribers, palms will begin to sweat and your heart will beat a lot faster and you would probably want to go back in time to change the situation.

But here's a little secret. You're not the only one who's experienced this, it happened to us too! As a matter of fact, even big companies went through this situation too.
Here are three things you can do to recover from accidental email sends:
Step 1: Evaluate the situation
In a situation like this, the initial reaction of most people would be to panic and react impulsively. However, it is important that you should keep calm and think before you act. Panicking and making hasty actions would only cause further damages. Keep in mind that mistakes can be corrected.
Relax. Determine the cause of your blunder to prevent it from happening again. Think of how you must have sent the wrong email to your subscribers. There are multiple reasons on how the wrong email must have been sent. It may be due to a software malfunction, bug, or simply human error. By understanding how the error happened you will know how to remedy the situation. Can it be un-sent? No. But, you can take action.
Send Email Campaigns the Right Way and Avoid Becoming a Spammer
Step 2: Take action
Once you've assessed the situation, it's now time to make a move. As previously mentioned, you shouldn't react impulsively. Instead, you should handle the circumstance with grace. Keep in mind that time is of the essence here, so you should be able to think of a solution quickly.
There are different ways on how to recover from accidental emails sends. First of all, sending a second email with the subject "correction email" or something along those lines would be the best idea as to avoid confusion among your subscribers.
Aside from changing the subject, the content is obviously important. It is vital that the content of the follow-up error correction email must have an apologetic tone for the inconvenience you've caused your subscribers. Encourage them to respond to your email to get an idea what they think.
Most companies would amend the situation by being creative in their approach. Some would use humor, wit, or even giving their subscribers discounts for a certain period of time.
Here are some nice saves:
Made.com accidentally sent the wrong email after the Scottish independence election! Luckily they were able to discount some of their Union Jack themed furniture to make up for it: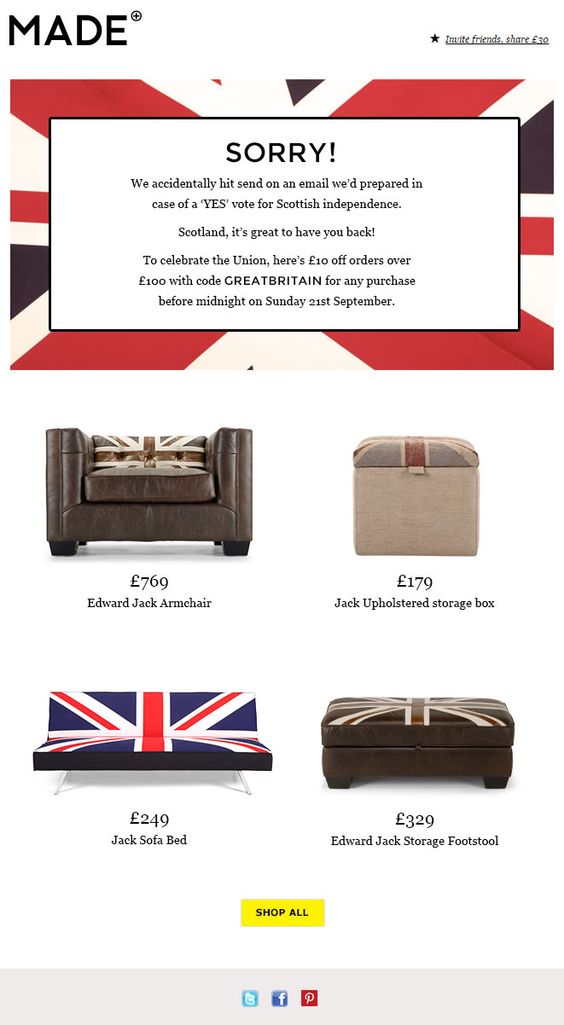 Fab's brilliant email campaign following an earlier email being accidentally sent: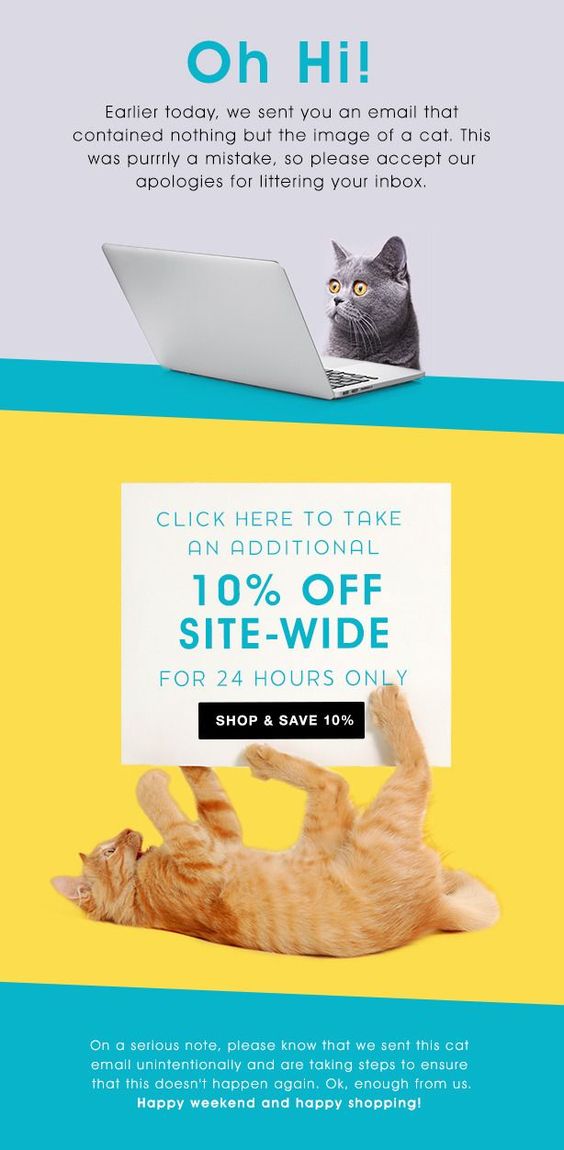 That's what we call- FABulous save! 🙂
Sur La Table got a little too excited and accidentally sent an email about their sale a day early! they quickly recovered with this email that was very apologetic and crafty (a fun detail on their part- the eggs weren't broken in the original email).
Dorothy Perkins sent an offer which was… no longer valid: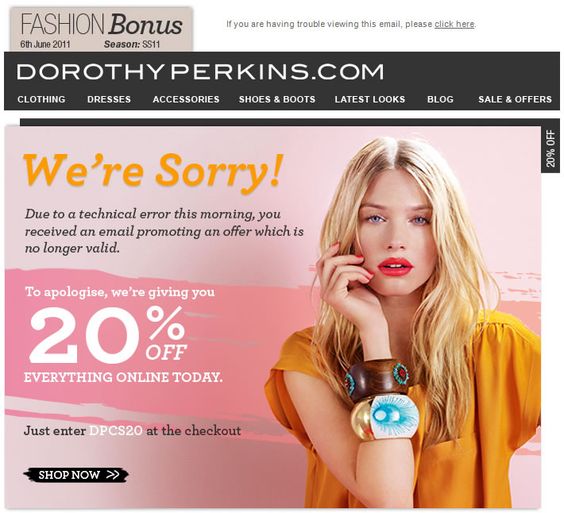 Here's how Links of London recovered from sending out the wrong email version: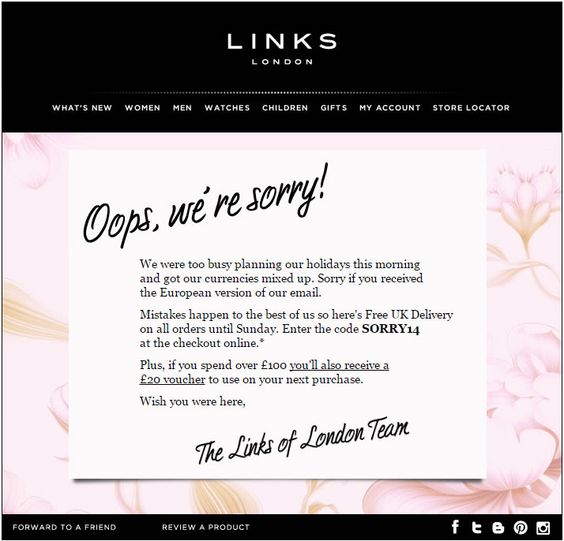 So folks… before clicking send, make sure to proofread it!
Step 3: Learn from it
Now that you've analyzed the situation and fixed the damage, the last step is to learn from this experience. This mistake is a stepping stone in your career. Don't be too harsh on yourself. More often than not, your subscribers will be forgiving and understanding of the situation.
Don't think you're going to lose subscribers for committing an error in one email. Think about it. This is actually a good thing. Some users consider email marketing messages as spam and that these are sent by bots. An accidental email send and a follow-up apology email for sending wrong email would show your subscribers that it's actually a real, live human being who is sending them emails.

Want to learn how to create an effective newsletter? Click here.
For additional articles, visit our blog.