How to Increase Sales With the Help of Marketing Text Messages (SMS)
Any person living in the twenty-first century knows that cell phones go far beyond receiving and making phone calls. Most people feel naked without their cell phone and they take it wherever they go, checking it every few minutes. Marketers have begun taking advantage of this, and you should too.
Recent research has found that most people use their cell phones more than they use their computers – not a very shocking finding if you ask us. Think about the last time that you forgot your cell phone at home, or even worse, the last time that the battery ran out and you didn't bring a charger with you. It's undeniable that most of us are addicted to our cell phones.
We wake up with our cell phones, check any text messages we missed during the night, peek into Facebook during our morning coffee, read emails on the bus ride to work, and the list goes on and on. A survey from 2015 even concluded that people would give up television before giving up their cell phones.
As advertisers, what could be more efficient than sending your message directly into your customers hands?
Open Rate Over 90%
SMS open rates speak for themselves; More than 90% of the people that you send a text message to will open it up within 3 minutes of receiving it. In regards to exposure, the text message is one of the most powerful tools out there for advertisers.
With the help of ActiveTrail's simple and intuitive system you'll be able to send an SMS from your computer directly to your Customer's cell phones. Your message will reach the hands of hundreds of thousands of customers within only a few minutes.
Examples and Ideas for an SMS Campaign
In case you were wondering whether or not you can pre-set when the message will be sent out, you can. For example, let's say that your restaurant offers special discounts during lunch time, you can send out an updated menu at noon, including all of the day's specials that you set up the night before.
Not Just Discounts
You don't have to wait for a special discount in order to send an SMS message to your customers. You can send a message regarding a special event, a malfunction that customers and workers would benefit from knowing about, or even send a message to students informing them that a certain class has been cancelled.
At a GoCommerce conference in 2015 the organizers sent out a text message to all of the participants providing a link that contained up-to-date information regarding the raffles, networking, the schedule, etc. Sending out the message was effortless, took the place of costly brochure printing, and it gave all of the participants access to real-time updates – a win-win-win situation!
The staff at a weight loss consultation center gathers the numbers of customers that don't show up to their appointments and sends them a personal text message with a link at which they can schedule a new appointment.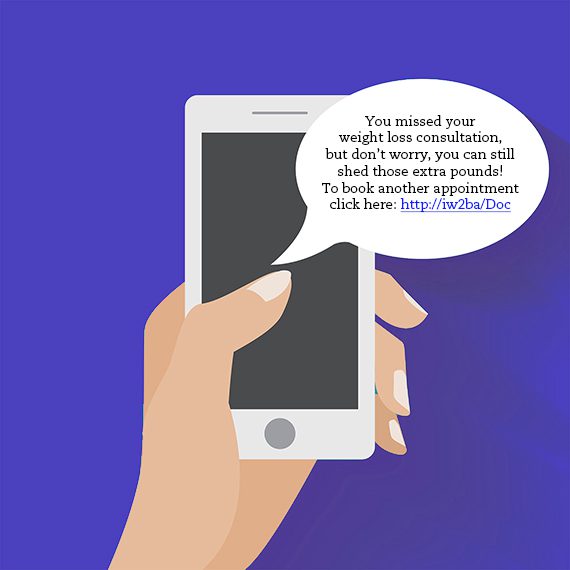 Long Messages in a Short Text
About 97% of all smartphone owners use them to surf the web. Take advantage of this and send your customers a concise and to-the-point text message containing a link to your landing page. By doing so you're enticing your customers to visit the landing page, where you can convey your message without paying through the nose per character – you save money, more customers will visit your landing page, and you barely had to lift a finger.
Text messages hold a personal dimension, which you should definitely play up. For example, "Hungry? Click here to order pizza!" or "What's up? We want to remind you about our blowout sale. For details…"
Since you're sending a personal text message, you can ask the recipient to respond, if a response is necessary. By adding a return phone number to the "from" line, your customer will be able to send a response, allowing you to gather important information. Another option is to enter the name of your company into the "from" line, thus saving characters in the body of the text.
The ideas for marketing SMS messages are endless, and allow you to efficiently get in contact with and update your customers on a rather personal level. Now that you know that text messages have high open rates and excellent response rates, start brainstorming different ways that you can attract your customers through text messages, and get ready to watch your sales soar.
Read more: Want to send a landing page link in a text message?
Learn how to design a professional landing page!