Spring is Here and ActiveTrail is Blooming: All Updates and System Improvements – April 2015
As always: we've improved, revised, enhanced, added, upgraded and scrubbed our system, and this is our chance to tell you what's new.
Introducing ActiveTrail's new sign up form system that will help you boost your mailing lists
Use ActiveTrail's new system to create dynamic and elegant sign up forms. Embed them anywhere you want – on your website, blog and landing pages, and significantly increase the size of your mailing lists.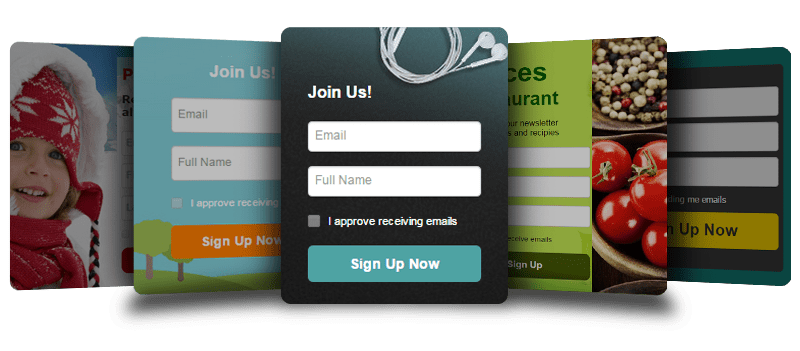 As with all of our advanced features, the sign up form system is user-friendly and very easy to use. Our designers created, especially for you, a panoply of pre-designed templates. Fit existing templates to your needs by playing with colors, images, shapes and sizes.
Think you're up to the task? Create your sign up forms from scratch using our empty templates. Add images, links, text, and have fun with the colors and sizes until you've reached marketing perfection.
Want your sign up form to be prominent? With ActiveTrail you can display the form in a number of ways – as a pop-up, as a floating form or embedded in the page. You also have power over how the form will appear – using animations for example.
We're aware of the importance of mailing lists so the system automatically synchronizes with the recipients lists you've created on ActiveTrail's system. You can send new sign ups to specific mailing groups and at the same time perform actions like sending out a "Thank You" campaign or any other marketing campaign to new sign ups – all automatically.
Share your landing pages on Facebook – new advanced sharing options
One of the greatest compliments your landing pages can receive is having a lot of shares on social networks. The biggest problem with shares is that you have no control over the text and image that appear – but not to worry, we've taken care of that too.
New to the landing page system – set a title, text and image that will appear no matter who shares your landing page and where. The content will always appear exactly the same.
While designing a landing page with ActiveTrail's system, click on "settings" and provide the desired content.
A variety of new fonts now available in the system
We've upgraded our fonts to include many new ones like Google fonts, all available from the sign up form and landing page builder.
More updates:
• Spam reporting: a new "Report spam" button now automatically displays in all emails sent from ActiveTrail's system. The button serves you in two ways: first, it prevents the recipients from reporting your emails as spam to the email providers, therefore decreasing your rating. And second, allowing you more control over your recipient lists as every recipient who clicks the link will automatically be moved to an "Inactive" mailing list.
• Favorites: mark favorite mailing lists to allow for better screening when looking for a specific group. For example: if you have many groups named "Birthdays", mark the group that is most active to find it more quickly.
• Yearly marketing plans now 15% off: as you already know, your user experience is very important to us, and that includes your purchase experience.
When browsing our different monthly plans, you'll see all the different plans and their prices. If you choose to pay in advanced for a yearly plan, you'll receive a 15% discount. When you select the option the price will update automatically.
Already have credit from our "Refer a Friend" program?
The system doesn't forget. Your credit will update automatically and you'll be charged accordingly.
Look for all the improvements, updates and new features on ActiveTrail's system.