Introducing ActiveTrail's Marketing Automation System!
We promised you exciting news, and here it is!
ActiveTrail is launching an automatic visual marketing system that helps you manage your marketing layout in the way that's the smartest, the most focused, and the most relevant to your customers.
If up until now email marketing has worked well for you, starting now it will work a whole lot better through marketing automation.
What is a marketing automation system?
A marketing automation system is a system that's based on triggers and segmentation.
The triggers are what allow you to time your email to exactly the right moment, whether it's right after the customer performed an action, like signing up for a platform, a webinar, or another event of yours, or after a long time during which the customer didn't carry out any action, for instance if the customer didn't open your email for three months, or before a certain date, like a week before the customer's birthday.
But instead of building one email that you send to the customer who activates the trigger, you build a whole marketing sequence, based on that first trigger, that includes a series of emails and text messages that are timed however you decide, according to the customer's actions.
Segmentation, on the other hand, is what allows you to divide your customers into groups according to their fields of interest, which they indicated on their sign-up forms, or according to their characteristics, such as age, place of residence, or gender.  Thus, for example, you can set stations in accordance with the groups your contacts belong to.  If, for instance, you have content that's meant only for women, you can set a station that's just for women – e.g. an email with that content that will only be sent to your female customers.
You build your automation according to scenarios, just like a computer game that you're creating for your customers – a game they continue to participate in until they've gone through all the stations you built them.  You can set stations meant only for those who opened or didn't open an email, clicked or didn't click on a link you sent them, made a purchase on the website or didn't do so, etc. You can time the stations according to the customer's actions with time lapses of minutes, hours, days, or even months.
Here is an example for how it looks in the ActiveTrail system:
In order for you to fully understand what automatic marketing means, here's a short explanation of what stations a customer who sets out on your automation journey will go through:
Email series #1: An example of automation for store owners 
Mail #1- Welcome! Receive an awesome discount [valid for 48 hours] 
A customer saw your campaign on Facebook , went to your website, liked what she saw, and signed up for your mailing list. Her name is Amanda.  Amanda gets an email from you to confirm her email address on your contacts list.
Amanda opened your 'thank you' email and confirmed her registration.  Now she's added to the 'new customers' group and at that moment she sets out on the automation journey that you've prepared for your new customers.
An hour after the sign-up confirmation she receives an email with a 20% discount coupon or some other really worthwhile offer on a purchase at your online shop, valid for only 48 hours.  That's what Aerie from American Eagle did: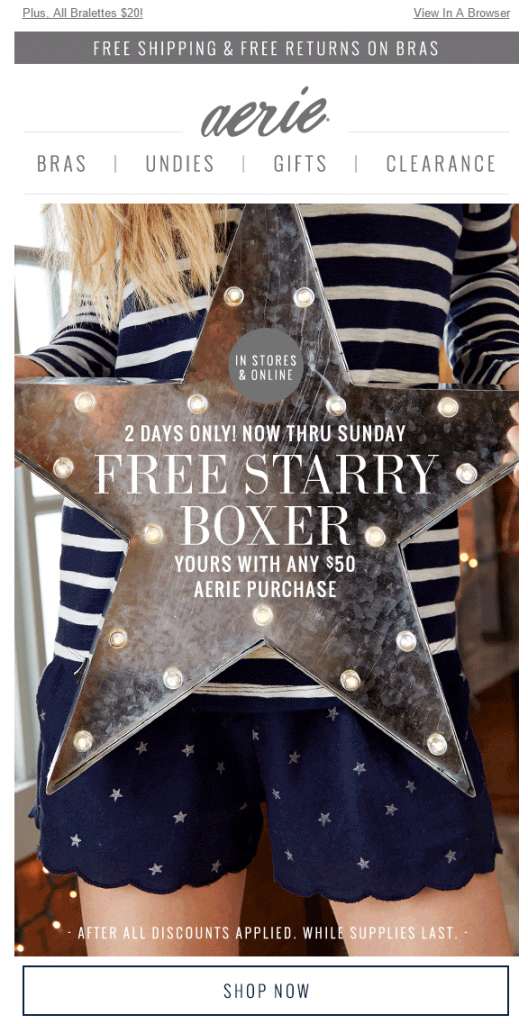 Mail #2- Receive a 10% discount with no time limit
If 48 hours went by and Amanda didn't open your email with the discount, she gets an additional email from you – this time an email with a 10% discount without a time limit, valid for any first purchase at your online shop.
An example of such an email by Diva :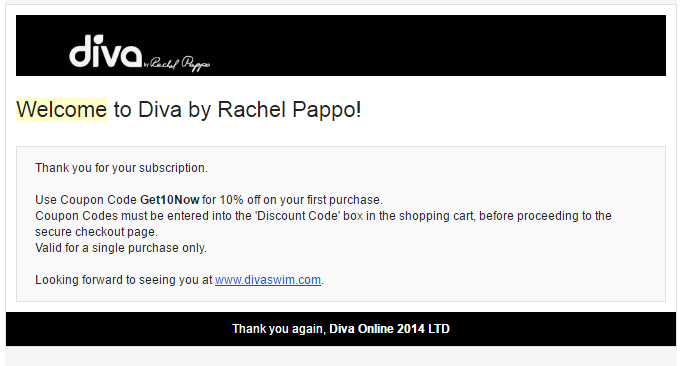 #3- Text message for those who didn't open the previous email 
If, 24 hours later, she hasn't opened that email either, instead she'll get the same 10% discount in a text message to her mobile phone, with no expiration date.
Mail #4- What's your favorite color?
Whether or not they opened these last emails and the text message, all your contacts who go through this automation, including Amanda, get an additional email a few days after they signed up.
This time the email will contain some information about your emails, about the shop, and maybe even an opportunity for Amanda to indicate her email marketing preferences as to the frequency and timing of emails or fields of interest.  According to the preferences that Amanda checks off, you can add her to your contacts groups, thus emailing your contacts more accurately.
For example, here's the clever way ModCloth ask their contacts about their preferences:
A click on a color leads the contact to clothing in that color.  But that information can be used in the emails themselves as well.  Thus, for example, you can create a trigger on each link, so your contacts lists will be updated according to these preferences.  So, for example, if Amanda clicked on the pink link, add her to the pink group so in the future you'll be able to send her campaigns for pink items and so on.
Mail #5- Our new items are waiting for you
A week later, Amanda will receive another email from you with details about your latest special offers, your new collection, or your hot sales.
Don't forget that Amanda is a new customer, so if you sent all your customers an email about a given special offer two weeks ago, she didn't get it and she'll be happy to get the update about it.  Note that you can leave the automation journey as is for years, only editing the campaigns a little each time. Thus, for example, you can edit this campaign every few weeks or months in keeping with the latest collections that came out in your shop or according to the items you have on sale that season.
Begin your automation!
Email marketing has never been simpler than it is with ActiveTrail's new automation system and with the visual automation editor that lets you create the marketing layout you always wanted.
In the coming articles we'll learn about more automation journeys you can build for your contacts and about more terrific automation possibilities.
Read more about our visual autoresponder system