What Makes ActiveTrail the Best Email Marketing System?
It's well known that email marketing is the most profitable marketing channel today, with data indicating up to 4000% profitability on average. Therefore, choosing an email marketing system is an important decision, one that should be made wisely.
Choosing an email marketing system for your business or company is one of those business decisions that will influence your marketing activity directly.
In such a competitive field, it's not for nothing that ActiveTrail's software is considered one of the best worldwide. We've decided to inform you of a few reasons to pick ActiveTrail as your email marketing system.
6 reasons why you should choose ActiveTrail as your email campaign software:
1. Because of the perfect mobile responsiveness
User experience is a crucial aspect of any campaign and when more than 60% of recipients open emails on their mobile displays on a regular basis, mobile responsive designs become a crucial aspect of any email campaign.
To top that, Google has recently published a statement stating that mobile responsiveness will now greatly affect your site's ranking in search results. If your campaigns are not fit for view on smartphones, tablets and other small displays, they won't get as much exposure and your opening rates will drop drastically.
If you are using ActiveTrail's system you don't have to worry, we've got you covered-  all the content you create will automatically fit any screen, so it will receive priority in the praised search engine. After designing a landing page, campaign or sign up form, you can see your campaign in the preview screen that displays both desktop and mobile previews.
Read more about mobile responsive designs
2. Because of the easy-to-use campaign editor
How many times have you started designing your campaign and found yourself staring at an empty screen? How many times have you felt the need to hire or consult with an external designer and waste precious resources so your newsletter looks professional and enticing?
ActiveTrail's newsletter software and campaign editor is built so that anyone can design a top-notch, professional newsletter. It starts with a friendly drag & drop editor that allows you to place text, images and links to social networks anywhere you want. Use the advanced image editor to cut images, play with colors and special effects and try out many more cool features on your images.
Add tables, buttons, and frames and change the colors as you like. Save your created templates to reuse on your next campaigns.
Feeling less creative? Pick a template out of dozens of elegant pre-designed ones. Pre-designed templates can be fit to your needs, and you change the text colors and fonts any way you like.
ActiveTrail's campaign editor proves that creating an email marketing campaign that looks expensive, doesn't actually have to be expensive.
Read more about ActiveTrail's campaign editor
3. Because of the extras that make ActiveTrail a 'One Stop Shop'
In addition to being one of the world's best email marketing systems, ActiveTrail also offers a panoply of services intended to meet all your marketing needs. When you use ActiveTrail's system, you receive tools to design newsletters, landing pages, surveys, SMS campaigns and professional sign up forms.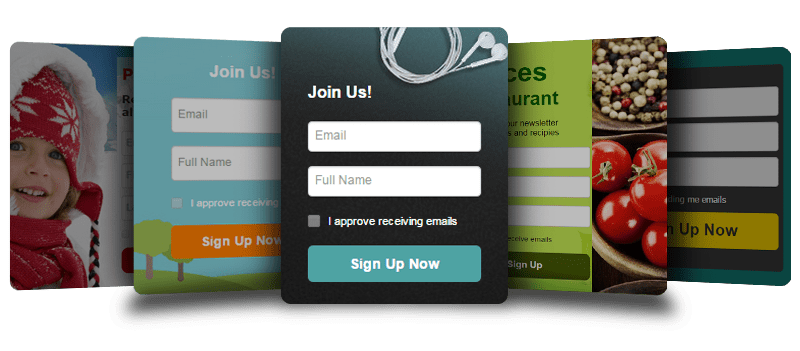 Working simultaneously with several systems to create a complete campaign is no longer necessary. Creating a landing page or sign up form is just as easy as creating a newsletter, as it's all done from the same system, with the same parameters.
All your mailing lists are in one place, organized by dates, characteristics or any other method you choose.
In addition, all of ActiveTrail's features synchronize with one another. For example, you can embed a survey in your newsletter, or a sign up form in your landing page. You can send a marketing SMS with a link to a mobile responsive sign up form, etc.
Read more about ActiveTrail's advanced features
4. Because of the free landing page system
If you're one of those marketers using separate systems for newsletters and landing pages – it's time for a change! Why work with duplicate sign up forms and mailing lists?
ActiveTrail offers all email marketers a professional landing page system for free. No need to learn how to use another system, and all your campaigns will look extremely professional and uniformly designed.
When designing landing pages with ActiveTrail's system you can choose whether to create your own templates or pick a pre-designed template from a wide variety of elegant templates. Add buttons, links and text, and change the colors of the pre-designed templates as you like.
Create a cascade of marketing reactions that follows your landing page. For example, add any user who clicks a button on the landing page to a separate mailing list, and send a special newsletter with an offer intended especially for those users.
Read more about ActiveTrail's landing pages
5. Because of the advanced features
• Autoresponders: Think how nice it is to create something only once and have it go on forever. ActiveTrail's autoresponders system allows you to create a series of emails, choose a mailing list and have the emails go out automatically for an unlimited time period. Autoresponders allow you to automatically send our emails and newsletters to customers based on their actions. You can set in advanced when the emails will be sent or what actions will trigger them. Examples include birthday wishes or actions completed on your website (registration, purchase, etc.).
• Triggers: Any link you add to your campaign in ActiveTrail's system has the potential of making a great impact. Triggers allow you to set an action that will be carried out when a user clicks on a certain link. For example, clicking on a product link can trigger a newsletter that introduces similar products, which will be sent to that client. You can even set that a sales representative will automatically receive the contact information of any client that shows interest in a certain product by clicking on a link.
• AB Testing: How many times have you argued over a small aspect of your campaign's design? With AB Testing you don't have to argue whether title A is better than title B. AB Testing allows you to create two similar campaigns, and check how your recipients respond to each one. The parameters being tested can be titles, button texts, images locations, and many more. The 'winning' version will be automatically sent to all other recipients.
6. Because of the advanced reports system
You probably know how important it is to follow up on the results of your campaigns. Without follow up, there's no optimization. ActiveTrail makes all that very easy with an advanced reports system.
You can view the results of one campaign, compare different campaigns, view results by date and even view all campaigns sent out in the last year. The reports are comprehensive and include the names and emails of recipients. You can view how many users clicked and which ones, percentage of openings, unsubscribes, incorrect addresses, and much more.
You can also compare mobile and desktop results and check how many of your recipients opened your emails on mobile devices.
Would you like to know which of two action buttons works better? Check the click percentages in the hot spots report.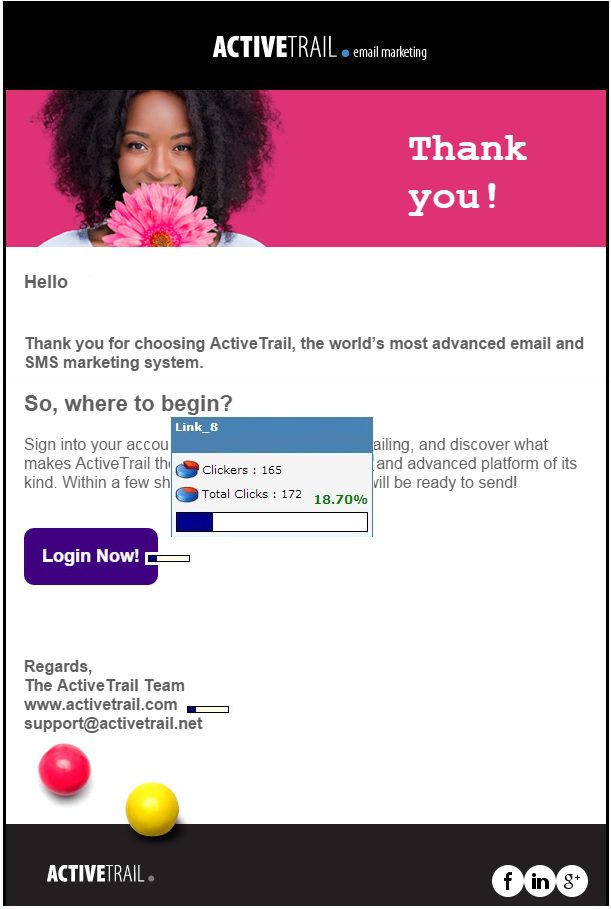 Read more about the advanced reports system
Do you need more reasons to use ActiveTrail's marketing system?
• Low deliverability rates: ActiveTrail has a verified reputation with email providers, guaranteeing that your emails will not reach the spam folder and therefore ensuring high open rates.
• Integration: Many of ActiveTrail's users use internal CRM systems that contain their customers list. ActiveTrail's advanced integration tools combine the two data sources automatically to make your life easier.
• Multilingualism: ActiveTrail is a global company with users all over the world. The system is available in English, Hebrew, German and French and you can switch between the different languages anytime you want. This allows different marketers from different countries to work together on one campaign, in many different languages.
Confused from all the features presented here? There's a simple way to learn about all that ActiveTrail has to offer: