The Complete Guide To Remarketing With Landing Pages
How It Works In the Real World…
You're cruising down the highway, when all of a sudden a huge billboard of Heidi Klum appears, trying to sell you some random product.
The image will probably be ingrained in your mind for a few seconds – but that's about it.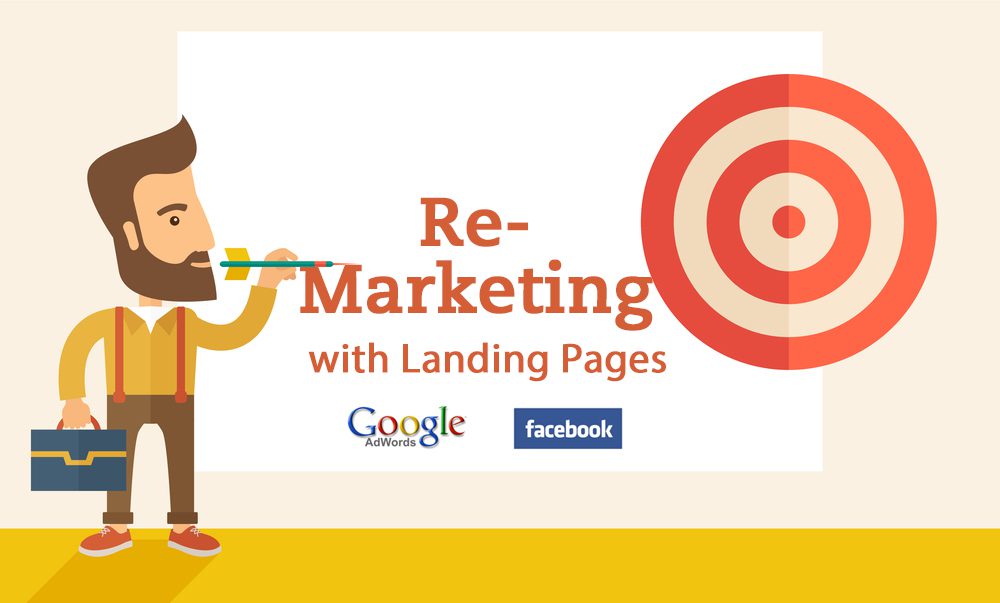 And How It Works In the Virtual World?
Now imagine that Heidi is following you everywhere you go.
Open Facebook – she's there,
Open OK Cupid – she's there,
Open Wikipedia – lo and behold, she's there
This is the exact definition of remarketing, an advertising method that allows you to publicize relevant banners or text ads to anyone who has visited either your website or the landing pages that you built in order to promote a certain topic close to your heart or to your pocket.
Many of the different advertising networks offer this feature, the largest and most significant among them being – you guessed it – Facebook and Google.
The Advantages of Remarketing
Cost – Remarketing is relatively cheap compared to regular text ads. It's much cheaper to advertise to someone that has already visited your website (he's already been 'tagged' by means of the code that you embedded).
Increase in sales – Those that have already visited your website are more likely to turn into paying customers, and with the help of remarketing you can interest them in your product again and again.
Exposure – Exposure creates a brand. Raising awareness to your brand increases its presence in the consumers' mind, in a direct correlation with their desire to spoil themselves a bit by purchasing your product.
Where to advertise – With the remarketing code you can advertise to all of your past visitors through Facebook, in Google's advertisement section, and many other websites.
Who Can Benefit From Remarketing?
In short, everyone!
Let's say you created an amazing campaign, which resulted in no less than 1000 visitors in your website per day. (Give yourself a pat on the back!)
But wait…
Only 50 of those 1000 filled in their details!
Where did the other 950 visitors go to?
A few of them went to fold their laundry, a few wouldn't dare miss the new Game of Thrones episode, some forgot to charge their laptop and it died on them and some… well, you get the picture, right?! Because I could go on for hours…
Without remarketing you might as well kiss those 950 potential customers goodbye.
With remarketing, however, you can tag all of your website visitors and subsequently advertise your product to them in the sites where you purchase advertising space, bringing those 950 potential customers back to you.
How Does It Work?
When someone enters a site in which a remarketing code has been embedded, his browser will automatically send the user a Cookie that will tag him and ultimately know  to show him your ads when he opens Facebook or any website within the Google Display Network.
Where Do We Come In?
ActiveTrail is the most advanced system for creating landing pages suitable for viewing in any possible platform.
Using ActiveTrail's advanced landing pages features allows you to embed a variety of different tracking codes, among them the remarketing code for Facebook or Google.
So How Do I Get Started?
First and foremost, you need to copy the remarketing code for the platform from which you want to advertise.
Facebook
In Facebook's advertising platform click on:
Tools > Create Audience > Custom Audience
In the window that opens, click on Website Traffic:
Indicate the information that you want to collect.
In the following example we chose to implant a cookie for everyone that visits our website (website traffic), with a cookie life span of 30 days at the user's computer.
You can also give a name for your audience. It's important that the name would be clear and precise to allow smooth sailing without any confusion in the future, when you need to choose which audience you want to advertise to.
Lastly, click on the gear button at the bottom left of the window and then click on View Pixel Code.
The window that opens will contain the code. Copy the entire code and click on Create Audience.
Afterwards, open up your landing pages in the ActiveTrail system and paste the code in the suitable place (will be explained shortly).
Google Adwords
Click on Shared Library, which appears under your campaign list.
Afterwards click on Audiences and then on Tag Detail, which will appear in in the window that opens on the right side of the screen.
In the new window click on Setup > then click on the small arrow next to the sentence View AdWords tag for websites > and copy the code, which appears at the bottom section.
Embed the Code in the ActiveTrail Platform
Open the ActiveTrail platform and click on Landing pages.
Click on properties of the page in which you want to embed your remarketing code.
In the new window, click on tracking code.
Scroll down until you reach the Remarketing Code window , paste the code and click 'save'.
That's all folks! Your page is ready to start host and track its visitors.
It's important to know that Facebook and Google allow you to advertise only after you've reached a certain number of visitors in your page, and not immediately after the code is embedded. However, they begin counting the visitors the moment that you upload the code to the page.
You can track the number of visitors in the page and those who have been 'tagged' through Google and Facebook's advertising system.
What Do You Do With Two Codes?
Let's say you want to embed both the Facebook code and the Google code. Simply paste both of the codes one after the other with a blank line in between them. This way, every visitor to your website will be tagged by both codes.
Sound interesting? Read about Expanding your mailing list with 8 simple steps.
You can also learn In which social network you should be marketing.