If you really want to take advantage of all the tools that the system offers, the first thing that you should do is start using ActiveTrail's visual autoresponder software. Our autoresponder software is one of the most important tools that can be incorporated in any digital marketing campaign.

Its core function is setting a specific time and date, scheduling your emails in advance using the automated email sender. But that's not all – the greatest thing about autoresponders isn't that you can set a time and date for every email in advance, its the fact that you can have the system react to the different actions taken by your clients, which can really give your email marketing campaign the push it needs.
Emails that react automatically to your customers' actions
There are many different ways to utilize this great tool, such as: Creating an automated email sender that sends an email to your clients on their birthdays, wishing them a happy birthday and reminding them that you care or setting an autoresponder that sends a 'thank you' email to any customer who makes a purchase on your website, to make sure the client is satisfied and make him want to come back to your store.
An autoresponse software can be set to be activated long after the client's action as well, you can set one to send an email to your customer one month after he purchased a product to follow up and see if he's still satisfied.
Autoresponders can be set to go out anytime or be activated by any action, your creativity is the only limit!
Different clients can be put on different lists which receive a different array of emails based on their actions. All you have to do is command the autoresponder software the necessary actions and go back to your daily business; it will make sure your clients don't forget about you, by sending those emails and newsletters on the dates and times that you have specified in advance.
How does it work?
Timing – Time your emails to be sent out on a specific date and time.
React – Design your Autoresponse software to react to different actions taken by your clients. Actions can include a click on a link in an email, a specific page opened on your website etc.
Adaptation – Adapt your emails to fit different kinds of clients, based on their actions.
Greetings and Wishes – Send a personal email to your client on his birthday or anniversary, or any other date you wish to acknowledge, using automated email sender.
Flexibility – The autoresponse software is very flexible and easy to use. It will fit any marketing design and will always meet your needs.
 This is how ActiveTrail's Visual Autoresponder looks like: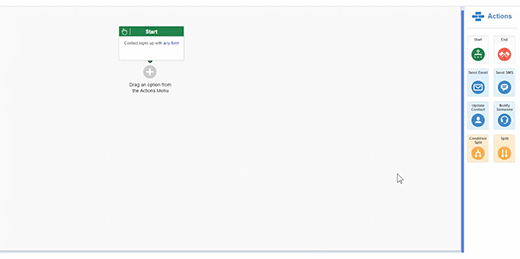 Why is no email campaign complete without autoresponder email sender?
The autoresponse software allows you to give a personal and professional treatment to each and every customer. Just like with anything else, automating these processes will save you time and much-unneeded work.  
On average, customers make their first purchase after receiving 3-4 emails. That's why you can get the best email autoresponder results by planning a few emails ahead and have the system send them out within a few days of each other. That way, no customer will be forgotten and you can make sure the email campaign is continuous, even if you don't have time to put in constant optimization efforts.
Once you start using the auto email sender, you won't believe you ever managed without it.