ActiveTrail's support team acts as a kind of therapist/consultant for our clients: we listen and try to find the best possible solutions to all your technical, design and marketing issues. Even when we're not conversing with clients by phone, email or chat, we're always trying to think of new ways to improve and optimize our services as a customer support team.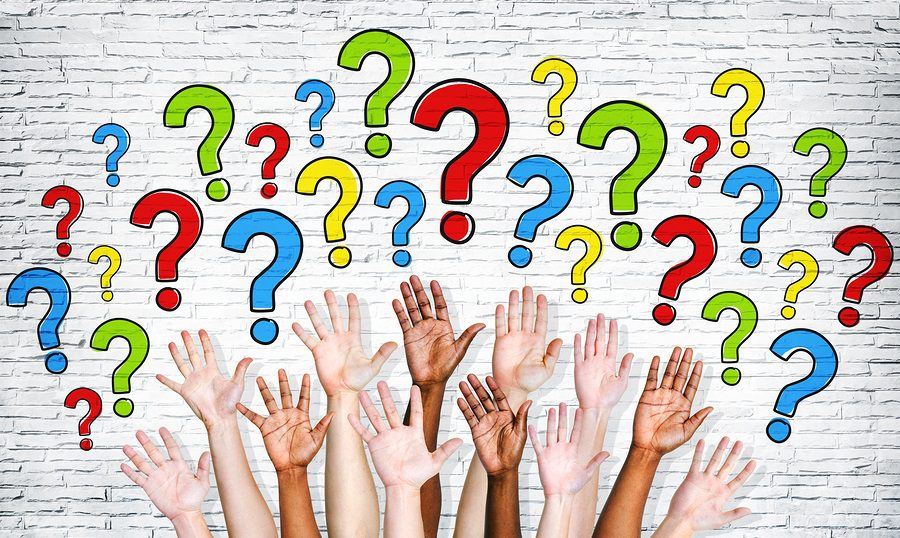 Over time, we've noticed that there are questions that keep coming up, from many different clients. For that reason, we've decided to create a post on ActiveTrail's blog that will provide answers to the most frequently asked questions, for your convenience.
So here they come- our 20 most frequently asked questions and their answers:
1. I built a landing page, but where are my leads?
You can stop worrying – your leads are safe with us.
Users who filled in their information in your landing page will be saved under the category "Conversions" in the "Reports" section of your landing page.
2. How do I add "View this email in your browser"?
When you add the text "View this email in your browser" to your newsletters, the system automatically creates a link to a separate page, where the email will be presented outside of the email provider's system. That way, your newsletter is available online, and not only via an email provider.
This can be achieved by adding a header block in the editor. In the block settings you can choose different heading types.
3. Unsubscriptions: How do I remove recipients?
To refrain from sending messages to clients who asked not to receive them, or that you decided not to include in future newsletters, all you have to do is go into the contact's card: click on the "contact status" tab and change the status from "Active" to "Do not mail".
The system will not send messages to that client, as long as the "Do not mail" status is set.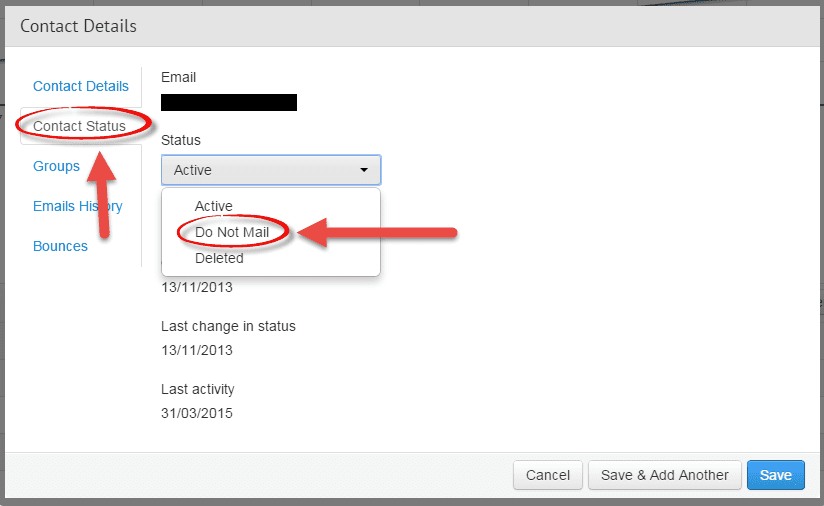 4. Can I merge groups?
Yes, you can copy one recipients list into another. Click on "Groups" and choose the "Copy" option. In the copy box that will open, choose whether to copy into an existing group or create a new one. Fill in the details and save.

Read more about email marketing lists
5. I want to add a link to my campaign, how is that done?
You can add a link to text, images and buttons, by using the link editor button. You can choose where the link directs your users: an internet address, a landing page, an online survey, etc. You can even link to another part of the newsletter, or add a link to automatically dial a phone number, for customers viewing your newsletter using a mobile phone.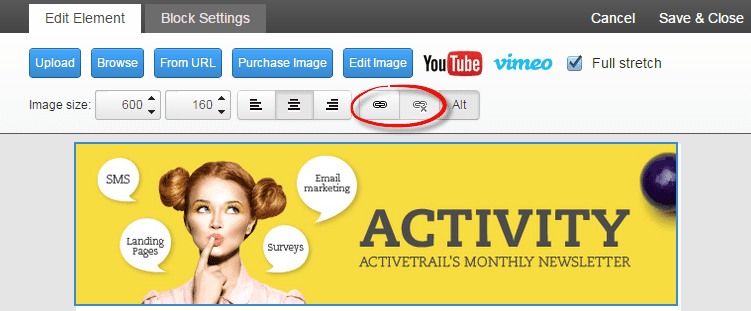 6. Some of my recipients didn't open the newsletter, can I resend it?
Sure. In the campaign list there's a button marked "Re-send" which sends the campaign to any recipients who didn't open it the first time. You can also keep following up on your campaign's results after you resend the campaign.
7. Importing excel files: why isn't it working?
The system keeps track of all import actions from the last three months, including importing from excel. You can view the details under contacts>import history.
8. How can I change the company signature, at the bottom of the email?
There are two changes that can be made:
Permanent – Account > Settings > Company Settings.
Manual – In the campaign editor, just click on the text and change it temporarily.

9. Images make the newsletter come to life: Do you recommend a size and format?
In the campaign editor, you can add an image block that will display the maximum recommended size.

Sizes (in pixels):
• 600 full width, or 564 for incomplete width.
• 264 for two images, half and half.
• 364 and 164 for two images, two thirds and one third.
• 164 for three images.
• 132 for four images.
10. Can I avoid double-sending to the same recipient?
You can set a send limitation in stage 4 (contacts) when creating your campaign. Click on "Sending restrictions" and mark your previous campaign, that way you can be sure that the campaign won't be sent again.
11. How do I add numbers to an SMS campaign?
Adding numbers to an SMS campaign couldn't be easier. Just copy the numbers you'd like to use from an excel file and paste into ActiveTrail's system. No commas, dashes or any other prefixes are required, just copy and save.
12. I imported a bunch of new recipients, will the system recognize repeating addresses?
ActiveTrail's intelligent system will never miss a repeating address. Once you upload the file, the system will automatically import all new addresses and mark the repeating addresses as "invalid" with "duplicate row" marked to indicate the problem.
In the import history tab you can view and download the "invalid" addresses of every import operation.
The files are stored for 30 days.
13. How do I embed a YouTube video in my newsletter?
To add a YouTube video to your newsletter, add an image block and click on "Edit Element". Click on YouTube or Vimeo and paste your link address in the pop-up window. That will create an image that when clicked will lead to the YouTube video.
Playing videos inside the actual email is impossible due to email provider limitations.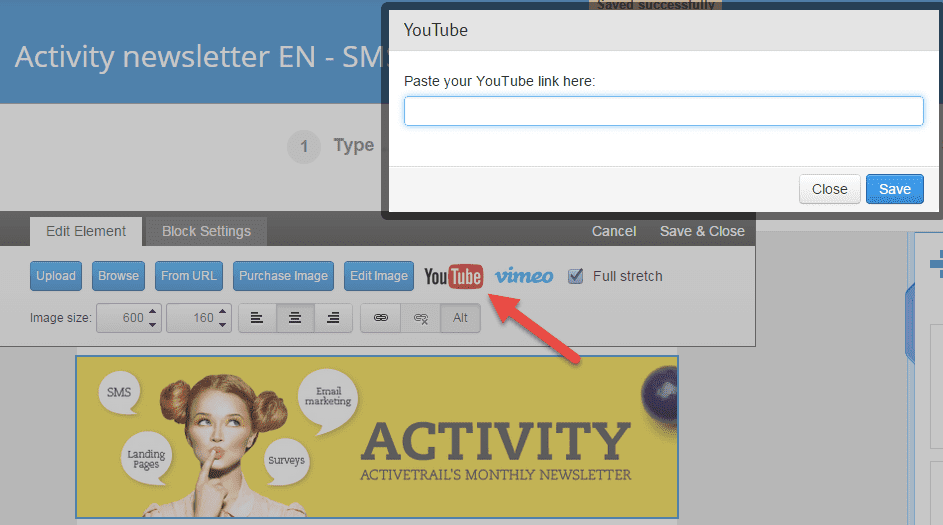 14. I designed an html campaign: how do I align images?
To align an image in an html campaign, you have to add a table with the following characteristics: rows, columns and width.
Add an image to the table and click the right mouse button > cell > cell properties > horizontal alignment- center.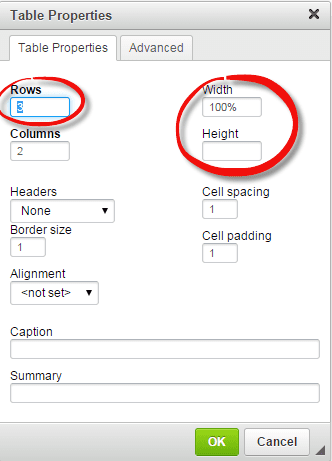 15. Can I send an automatic series of campaigns?
You can – and should. Under Emails > Autoresponders you can set up a sequence of messages that will be sent to your clients based on set dates.
The most used option is to send based on the client's sign-up date, when he first joined your recipients list.
You can even set the exact time the campaign will go out.
16. AB testing – who picks the winning campaign?
In step 5 of creating your AB Testing campaign you'll find the picking mechanism.
There are two options available:
1. Manual choice: you decide which campaign is the winner based on any criteria you see fit.
2. The system decides automatically based on set parameters:
a) Percentage of openings.
b) Percentage of clicks.
c) CTO percentage – percentage of clicks out of users who opened the newsletter.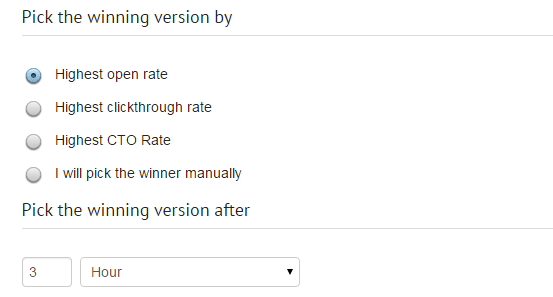 17. How complicated would it be to synchronize my campaign with Google Analytics?
It literally couldn't be any easier – just mark the checkbox "integrate with Google Analytics" in the ActiveTrail system and name the campaign. The system will take care of the rest and you will be able to view that same campaign in the Analytics reports.

18. I purchased a 'pay as you go' package – am I paying for 'incorrect' emails?
The answer is no – once the system marked an email address as "incorrect", it will not send the campaign to that email, therefor you will not be charged for those recipients.
19. What is "forward to a friend"?
"Forward to a friend" is a feature that allows you to ask your recipients to pass on the campaign that you've worked so hard on.
The feature is available under account > settings > system pages.
You can set the design and the email address for the transfer.
Use the preview button to see how the page will look.
20. "Report as spam" and "Unsubscribe" – What's the difference?
When a recipient clicks the "unsubscribe" button, he probably doesn't want to receive any more emails from you.
There are two possibilities why a recipient would click the "report as spam" button:
1. Your campaign feels like spam to him.
2. He wants to let you know that he never signed up to receive your newsletters.
Clicking on any of these two buttons will add that recipient to the appropriate list under reports in ActiveTrail's system.
Still have any other unanswered question? We are here to help!
Contact us by email: support@activetrail.net.
Back to Blog
SIGN UP FREE
No credit card needed