Email marketing experts know that doing effective email marketing is a challenging undertaking.  Your emailing strategy must be planned and calculated well, just like every other aspect of your marketing.
To create a good emailing strategy and to build successful campaigns, it's crucial to know what not to do!
The mistakes that follow are common mistakes in email marketing that derail the campaigns you work so hard on, investing your sweat and tears, and are liable to many removals from mailing lists.
To know how to email effectively, read thoroughly the following tragic mistakes that we've gathered for you, and do your absolute best not to repeat them.  Good luck!
1. Over-mailing/Under-mailing
How many emails are too many?
On the one hand, studies show that 86% of consumers would be happy to receive marketing emails from companies they're interested in at least once a month, 60% would be happy to get emails at least once a week, and about 15% at least once a day (Marketing Sherpa).
On the other hand, the studies also show that 35% of email marketers send 2 – 3 emails per month, 21% send 4-5 emails, and 19% – one email (the rest either email a lot more than that, or don't know how many emails they send).
What can we conclude from this?
The integration of these two sets of data indicates that regularly sending two emails a month is great.  Three or four emails a month can also work, but only if you truly have something new to tell your customers.  If you're emailing a lot more than that, it's time to check yourselves.  There's no need to bother your customers for no reason, the customers who look forward to your emails once or twice a month will start getting annoyed with you and that will lead to unsubscribing from your mailing list, which brings us to the next mistake…
2. "Just wanted to say hello"
If you don't have anything good to say, it's better not to say anything at all – that's as true in email marketing as it is in life.  Content marketing is constantly developing and as soon as you have a large mailing list, you can, of course, send them anything you feel like, but it's wise to send them something that will really interest them.  Establish your brand and keep your customers through quality content that you provide your recipients with; tips, articles, and relevant information that are connected to what you make and sell.  In addition, send details and updates on your special sales or on new products/collections that will be out soon.  There's no lack of possibilities for email subjects (here are 14 ideas for newsletters), and at any rate, don't just say hello.  That's the "hello" that may make your customers say "goodbye".
3. Not using personalization
In 2015, personalized subject lines raised the percentage of email opening by an average of 30% (Marketing Sherpa), which means that if you're not using personalization, you're lowering your email-opening percentage by 30%.  The use of personalization works best in a number of cases: when you're sending a series of automatic emails (autoresponders) to your new users; when you want to send mail to customers who abandoned their shopping cart before completing the purchase; when you're sending upsale/cross-sale emails; when sending surveys; and of course when sending special coupons for the customer's birthday or other special event.  That being said, these are only suggestions – don't hesitate to use personalization any time, in every email you send, as a little company called Google does:
4. A generic subject line
However much is said about email subject lines, it still isn't enough.  Your subject line is what will make your recipients decide whether or not to open your email.  A subject line has to be alluring, intriguing, interesting, but not too commercial and not misleading.  Whoever opens your email expects the content to match its subject line, and for you to keep your promises.
One of the biggest mistakes email marketers make is sending mail with a generic subject line: "Happy Valentine's Day! 10% off on all our products."  When you write a subject line, and in general when you are creating a newsletter, you have to think about the person who opens his inbox and sees five different emails, each of them trying to sell him something or to update him about his business.  The 10% discount that looks tempting to you isn't tempting enough, considering the fact that the same person may have received another email offering him a 30% discount (even if it's a totally different product).  If you want that person to precisely open your email out of the five, if he opens any at all, give him the added value up front in your subject line.
An example of a great subject line out of Michal Negrin's Valentine's Day campaign:

5. "noreply"
Have you ever tried to figure out who is that company that's called "no reply"? Or "mail list"?
The "from" is one of the important parts in the wording of your email, almost as important as the wording of your subject line.  Write the name of your company and even note the name of the person who's sending the email on behalf of your company.  As we've already said, personalized email contributes to the connection with the customer, and that goes both ways; your customers want to feel that there's a person standing behind the email that was sent to them.  Besides, if they don't know that it is indeed the company they signed up with and from whom they're interested in receiving updates who is the one sending them this email, they'll have no reason to open it.
6. Not saying the magic words
When you look at your inbox, what do you see?  On the left, there's the "from" we talked about earlier, in the middle there is, of course, the excellent subject line you composed, and then…a few more words appear in a lighter color, let's call them the magic words.  If your email starts with pictures, the magic words will be the name you gave your pictures or graphics, in the Alt tag.  If your email starts with text, the magic words will be the first words of your email.  Either way, pay attention to this part, which many tend to overlook.  Don't forget to check what the first words that appear in your newsletter are, and don't forget to give a name to each picture you're assimilating – that way the magic words will tell what your newsletter is about, and thanks to them, your email will be opened.
This is how it looks:
7. SALE SALE SALE every three days
You're not spammers, are you? Then don't behave like spammers.
Sales are great, but even things you like can get old if you get too much of them.  Nobody can afford to buy the products you're selling every three days, and not every email you send has to be a selling email.  Remember the added value? Good, start providing it.
8. Sending without group segmentation
When users sign up with you, they give you some important bits of information: male or female, when they were born, where they live, and all kinds of other facts that are important for you to know.  This information helps you send emails, which are better targeted, according to the groups into which you divided your subscribers.  Users signed up with you through a landing page about a specific special sale? Or through the website? Maybe that kind of segmentation can also help you.  The use of segmentation helps you optimize the content to the customer, which of course raises the open rates of the emails you send.
9. Not using graphics
Whether or not you've purchased a selfie-stick recently, you certainly can't deny the fact that we're living in a visual age.
Designs, graphics, illustrations, images, and the like make reading emails more pleasant and more enjoyable!  If you really invest in them, they'll also get your recipients to share your stunning email on social media and appropriate platforms.  Of course, the use of graphics has to suit the subject of the email and the essence of your brand, so colorful graphics aren't always suitable, but use your judgment and use graphics wisely.
Treadless are very creative with their graphics: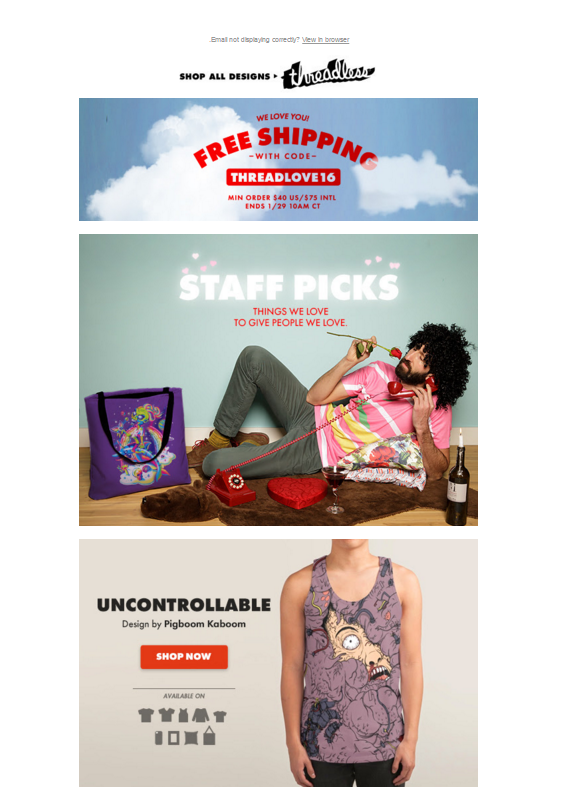 10. Too much graphics
On the other hand, if you're sending a newsletter that's essentially content, don't overdo the graphics.  One of the most common mistakes among marketers is the attempt to get most of the information in the email across through images.  If the subject of your newsletter is the content – the graphics should be there only to reinforce the text, not to replace it.  Get the important information across through the text, and use appropriate pictures only to heighten the effect of the text.
11. Too much content
You know those emails that go on and on?
…and on…
…and on…
…until they're cut?!
The newsletter you're sending isn't a newspaper. It can't contain too large an amount of content and graphics, for two simple reasons: One – how much can you scroll down?  The email platform wasn't intended for reading articles that take hours and people who read emails want to get the short version, or the main points, not all the content that appears on your website.  The second reason you can't include a huge amount of content in one newsletter is that you simply can't – Gmail cuts those emails!  That way, even if someone miraculously kept reading and viewing and reading and viewing, if the newsletter contains 7-8 scroll-downs or more, it will simply be cut in the middle.
12. Lack of manners
Not keeping a promise or not sending a thank you email – is just plain impolite!  And people don't like it when they're treated impolitely.  New users joined your mailing list?  Send them a verification email, so they know your mailing system is functioning.  After the thank you email, send them a series of follow-up auto-responders and include your content within them.
You promised the user that if she fills out her information, she'll get a presentation? An email with a discount voucher? Keep your word!  Otherwise, with the next email you send that customer, she'll probably remove herself from your list – no one likes to feel like they're being cheated.
13. Not sending a "test run" – errors in links, proofreading, pictures, etc.
The most annoying mistakes in newsletters are technical mistakes.  Broken links, links that lead to the wrong articles, pictures that don't appear properly, and proofreading mistakes can derail your campaign –  and why? Because you didn't send a test run.
Go over your campaign very thoroughly. Send yourselves a test email and after you find a few mistakes and correct them, send it to one of your colleagues for another pair of eyes to look at it.  It doesn't take that much time, and it's well worth it.
A typo slipped through? Not terrible.  Stop the campaign and resend it, corrected, with sending restrictions for anyone who already opened it or received it.
Another possibility is sending a sorry-for-the-mistake email!  It's a brave step, but if you email quality content and you trust your community, there's no reason not to.
An example of an apology email:
14. Bad timing
You divided your recipients into groups?  Good, because if they live in the other side of the ocean they might not feel like getting email from you at 2 A.M.  The timing of the email is important, make sure you don't send emails on the weekend and if you have customers around the world, check with regard to each country when people usually start work and when they tend to read their emails.  There are differences of opinion as to the best time to send a newsletter, since as mentioned, it also depends on geographical location, but it's indisputable that it should be during the week, preferably between Sunday and Wednesday, relatively early in the morning or around noon (as opposed to late morning or afternoon-evening).
15. Lack of clickability – or email without a call to action
Make your email as clickable as possible!  Got images? Link them to a relevant article on the website.  You're announcing a special sale? Put in a call to action and link it to the landing page you've created. Your newsletter is like a cover page. Every element you put into it, whether it's an image, a call to action, or even just the name of your company, should lead your users to a new world you open up for them.  Your newsletter needs to include at least one call to action, or one link to the website or a landing page, and it's preferable, of course, to have a lot more than one.
If you follow these tips carefully and you avoid the tragic mistakes, you'll seriously upgrade your emailing.  There's no guarantee that every campaign will be perfect in the beginning, but at least you'll know you're on the right track.
Just getting warmed up? Learn how to improve your sign up forms and gain more subscribers in three simple steps
Want more tips? Visit our blog
Back to Blog
SIGN UP FREE
No credit card needed