Quick Guide – How to Create Your First 'Abandoned Cart' Automation
Connecting your online store with the ActiveTrail system opens a whole new world of automated processes that will simplify your work and help you increase conversions, thereby maximizing your revenues.
Amongst the various automated processes you can create with ActiveTrail, you will find:
Follow up emails – Automated emails offering complementary products, coupons, promotions and a wide range of valuable offers that can increase conversion rates.

"Welcome" automation – Automated emails that welcome new users that signed up for a newsletter and were added to a new contacts group.

"Dormant" customer automation – Automated emails that are dispatched within a predetermined time frame to contacts which didn't engage with your newsletters or website ( email engagement like open rates, clicks or website visits).

Abandoned cart recovery automation –

The automation that yields the highest ROI of all.
Often, customers will begin down the road to making a purchase on your e-commerce site, but, after adding a few items to their carts, they abandon the process. This may come about for any number of reasons, from technical mishaps such as intentionally closing the browser or a page failing to logistical reasons (a coffee spill, a baby crying or a power outage).
No matter the circumstances that led to the cart being abandoned, an abandoned cart recovery automation lets you offer customers incentives, in real-time, to complete their purchases. Such incentives include sending a coupon via SMS or an email, sent automatically to remind the customer that they forgot a cart filled with products on your site.
To set up an abandoned cart automation in the ActiveTrail system, you will first need to verify that your e-commerce store has been successfully connected to ActiveTrail.
Click here to read the complete guide for connecting your online store to ActiveTrail>
Once you have validated that the connection is working correctly and ready for use – we can proceed to the automation! 
Creating an "Abandoned Cart" automation in a few simple steps:
1. Initiating the process – Visit the ActiveTrail Dashboard >> select 'Automations' >> 'New automation' >>

Choose an automation template >> 'Client abandons a Cart' >>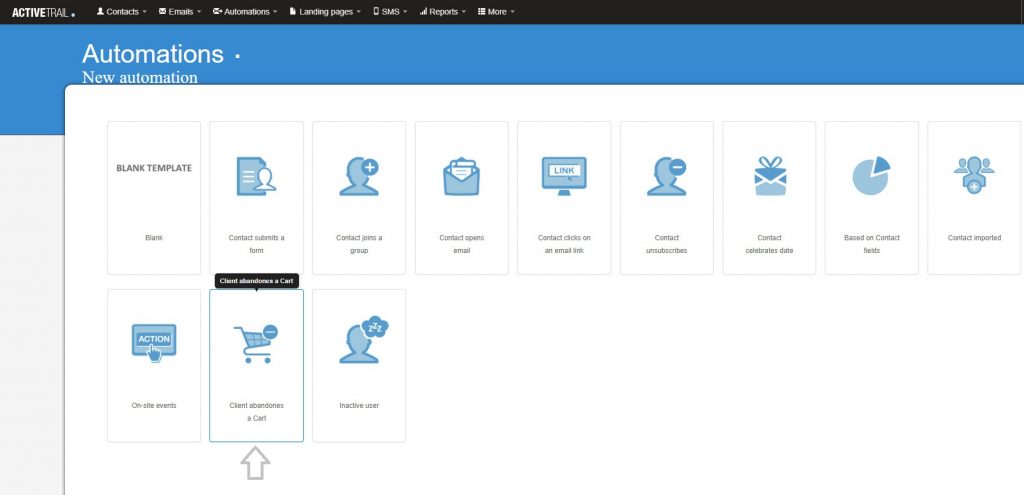 2. Setting up the automation – Once arriving at the automation setup screen, make sure that the 'Start' block is defined as 'Cart abandoned'.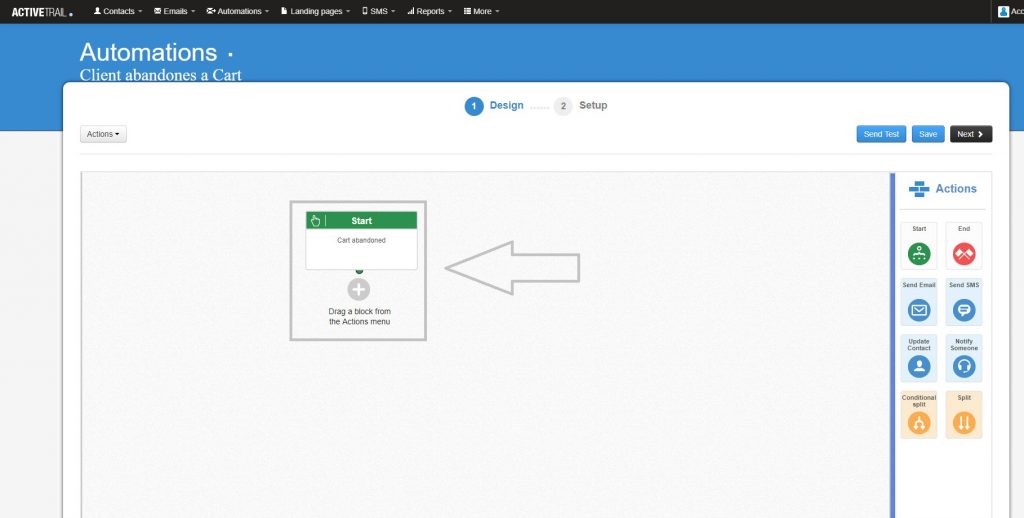 Next, drag the block for the appropriate action on to the automation panel, in this case 'Send Email' >> and set the time you wish to elapse between the abandoned cart trigger being activated in the system and when the email is actually sent.
We recommend setting a minimal time of 1 hour.
Would you like some help building your first automation?
ActiveTrail's marketing automation experts can build an abandoned cart automation for you in a matter of minutes! Call us at +1 (929) 214 1037 or leave us your contact information and will get back to in no time at all.
3. Designing the email – Click on the 'Send Email' block >> fill in the campaign details >> select 'Design Email' and move on to the design screen.>>
At the template screen, select a blank template, one of the system's pre-designed templates or one of your own regular templates >>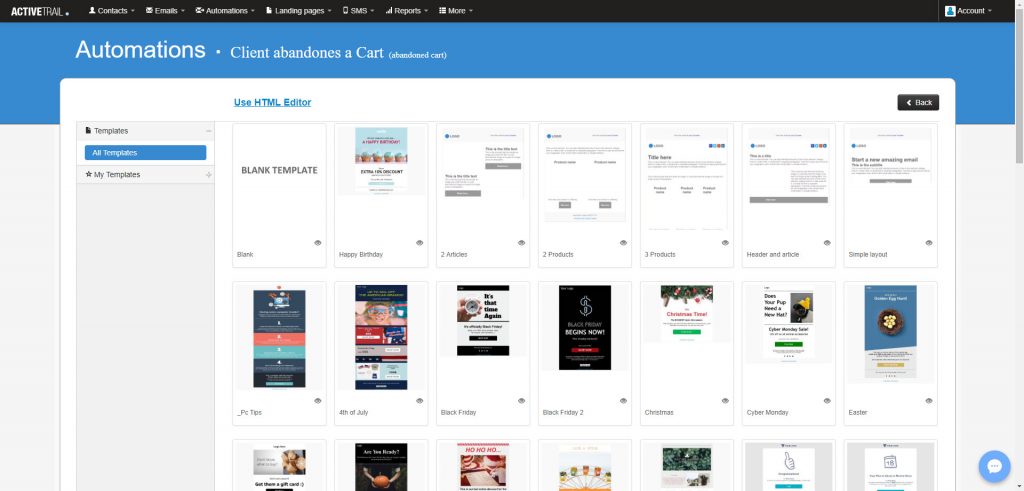 On the email design screen, select the 'Cart Items' content block and add it to the email's design >> After you complete the design of your email, click on 'Finish' >>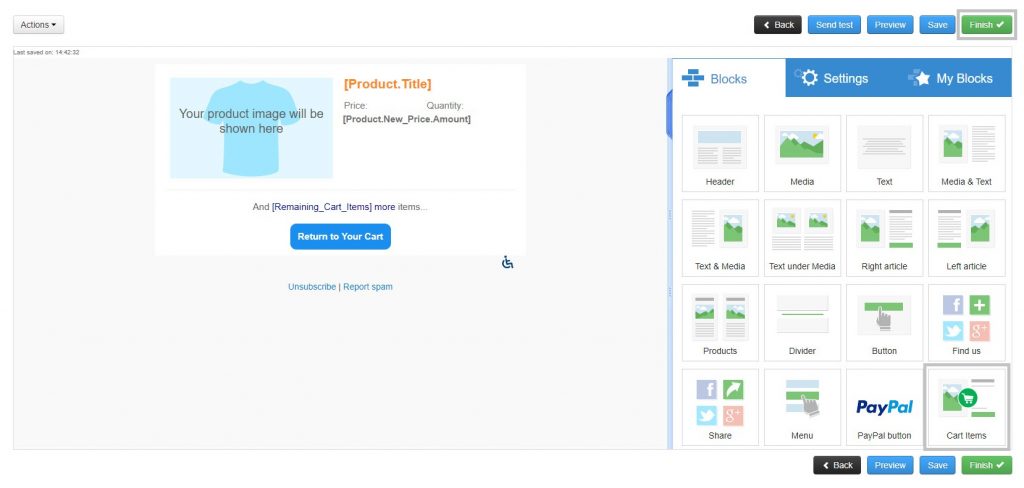 4. Defining the email – After designing the email, go to the settings screen >> fill out the campaign's details >> choose between scheduling the automation and immediate activation >> click on 'Activate Automation' to complete the process.>>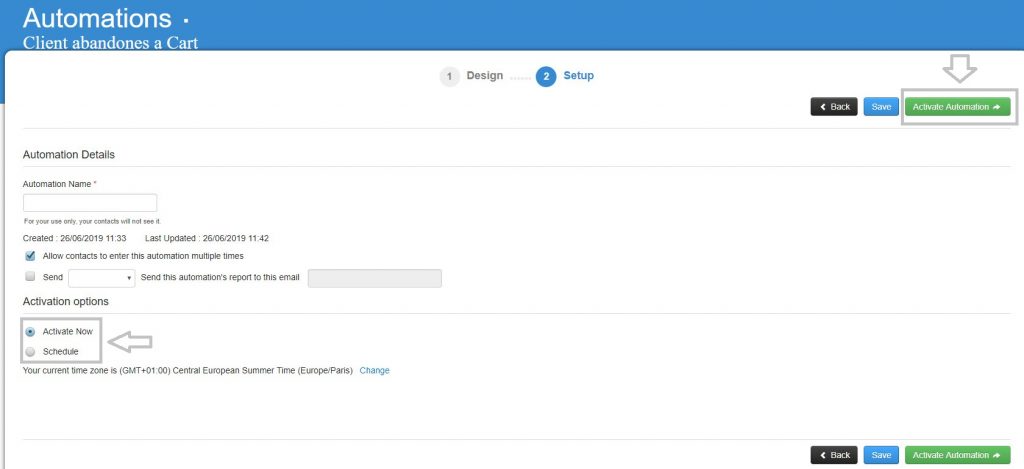 Your abandoned cart automation is ready to go. On the Automations screen, you can track how many times the automation has been activated in the 'Times Started' column and view the results of your campaign under 'Reports' >>

That's It! Your automation is ready for launch. Wasn't is simple?
All that's left is for you to track your campaign's performance. 
For more quick guides:
Create a Simple Email Marketing Campaign
Send an SMS Campaign with ActiveTrail
Design a Signup Form With ActiveTrail
Create a 'Welcome Automation' on ActiveTrail
Authenticate Your ActiveTrail Account